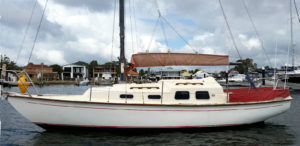 La Mouette – a 1976 Compass 28, built by Don Lees and Gunther Heuchmer in Sydney, Australia.  The Compass 28 is a GRP family cruising yacht.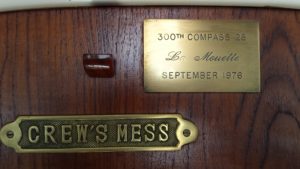 As you can see from the plaque on the interior bulkhead, La Mouette was the 300th Compass to be built.  The following article on Compasses explains it all nicely:
It's always fascinating to find out the history of your vessel, and we are no different.  We purchased La Mouette (on E-bay!) in March 2015 and it was a deceased estate.  The previous owner, Keith was a live aboard and he sadly passed away, and we became the next owners.  Along with La Mouette came a blue folder with prior surveys, receipts etc and at one stage (the owners prior to Keith?) it had been named "Sexy Beast" – thank goodness that Keith had changed the name.
We met Don Lees, the builder and designer back at the Compass Owners Regatta in February 2016 and he remembers originally selling the boat, when it was new, to a French couple, hence the French name.