First Time for Everything
First Time for Everything
After months of not being able to take La Mouette out sailing, actually it's been over a year, we spent Easter out on the waterways of the Hawkesbury and Cowan.  As the title suggests there were a lot of firsts, however, everything pretty much went according to plan.  Except for a lack of wind, so the motor got a real workout, but that was OK as it's the first real run the motor has had since the rebuild.  What added to the weekend was the wonderful weather, Easter can be cold, wet and windy, but it was almost summer, even out on the water in the evenings.
Thursday night was the usual mad rush of shopping, dropping the cats off and throwing everything in the car and heading up to the boat.  Internally, La Mouette still isn't totally set up as the saloon cushions are still a work in progress but everything else was working.  In addition, we had our new Waeco fridge, very important for keeping the drinks cool.  It was wired in and tethered down.  The big question was how long would the power last with just the engine alternator to keep things charged – no solar as yet.
Actually, the whole weekend and the performance of all the new systems was a great unknown – the re-wire that I had done, including the voltage sensor relay, battery switches, fuses, distribution panel rewire etc etc all seemed to work beforehand, but hadn't really been tested out in combat.  Especially, with everything being used in combination, motor, fridge, lights etc all going at the same time.  Would the system handle it OK or would boat explode in a mini mushroom cloud out on the water.  The engine rebuild was still untested, yes, we had run the motor (in gear) at the marina a few times, even had it serviced by the Lads at Minards Diesel, and even taken it out for a brief spin in the Bay (an aborted effort with lots of fumes etc) but it hadn't gone for extended periods of time out on the waterways.  I must admit that I am always a bit paranoid when it comes to engines, constantly listening for any changes, listening for unusual noises, and fully convinced that it would stop, either with a big bang and grinding noises, or just simply die, leaving us at the mercy of the currents and wind.
Surprisingly, the electrics and the engine all performed superbly.  I really should have more confidence in my abilities, not to mention the abilities of Neil and James at Minards!  The engine just went and went and went.  Not even a hiccup.  Similarly, with the electrics.  Not an errant spark or anything.  At one stage, we did a night sail (under motor) with both battery switches on ON, motor going, lights going, fridge going and it all went fabulously.  If anything was going to go wrong a weekend like this would soon have any problems coming to the surface very quickly.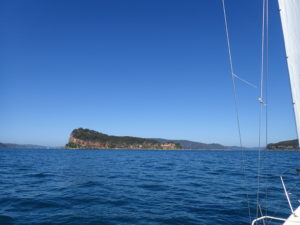 Things did go wrong, but not dramatically.  Going out through the Brisbane Water Channel was quite easy, no wind and a favourable tide, however once out of the channel and into Broken Bay and then past Lion Island, we were running against the current and our speed slowed down to an average of about 2 knots despite nearly full throttle.  Full throttle on the old design Yanmar single cylinders will have them blowing black smoke and lots of unburnt diesel.  Something was definitely not right – the earlier aborted run up to Paddy's Channel a few months before had us going at 6 knots with the current and towing a dinghy.  Here we could barely make 2 knots.  Everything looked OK and the revs seemed fine – no tachometer, so it was all guess work, but the engine seemed to be performing adequately.  The only explanation could be a fouled propeller, barnacles, a plastic bag or something else.  We had hired a diver in December to clean the hull and prop, but in our marina with a fast warm current, it doesn't take long for the barnacles to build up.  The long run was good for charging the batteries however.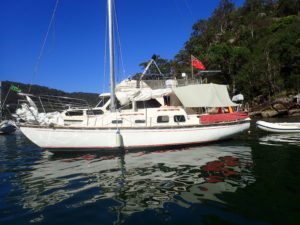 Next day at Refuge Bay, I jumped over the side with a scraper and sure enough, there were barnacles on the prop.  I managed to clean one side before the knot on the lanyard came undone and the scraper went down to Davy Jones Locker.  It was a new one, and hopefully Neptune saw it as an offering, not litter.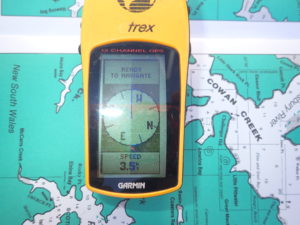 Sunday saw La Mouette and her steadfast crew heading further up Cowan Creek to Waratah Bay and this time we were averaging 4 knots with the engine thumping away a steady speed.  At Waratah Bay, another prop cleaning session, this time with a new scraper and a face mask, and with a clean prop, the night run back to Refuge was brilliant. It was a beautiful clear, moonlit night.  I was really dreading the night sail as I had not taken the boat out at night, however, I imagined that it would be pitch black, but in fact it was quite clear.  Unfortunately, there was no wind, so it was the motor all the way.  Now I am quite looking forward to having a go at sailing at night.  The prop clean by the way made a big difference.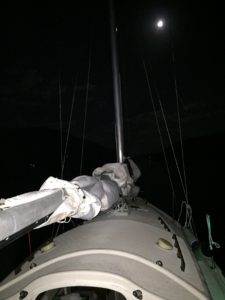 What I thought the night sail would be like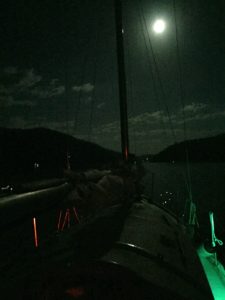 What the nightsail was actually like
Once back at Refuge Bay and rafted up to our friends Dennis and Anna, I had that dram of scotch that I had previously forgone because of the night sail.
The main reason for the night sail was that Waratah Bay is another hour or so up Cowan Creek from Refuge Bay.  Next day we wanted to catch the morning tide to get back to the marina, and to go from Waratah Bay would have meant a really, really, early start.  By going back to Refuge Bay meant that we could catch the morning tide at a more reasonable time.  As it was we left Refuge around 8:00 am and hit the marina at 10:00 am, right at the top of the tide.  We have found that high tide, or just after is the best time to try and dock in our marina, when the current is quiet.  Any other time is fraught with danger, and can be quite a traumatic experience.
Overall, for what was pretty much a shakedown cruise, everything went well.  Our provisioning was a wee bit disorganised which led to a messy saloon in the boat, but we coped with that.  If the boat hasn't been used for a while we will need to check the growth on the prop.  The motor performed flawlessly; the electrics and batteries didn't let us down and we had cold drinks all weekend.  We took the dinghy and outboard for a run which was basically its maiden voyage and explored the area around Refuge and America Bays and are quite happy with the money that we spent on the tender and it's outboard.  These things are not cheap!
First real session with the rebuilt engine.  First time the electrics faced trial by battle.  First night sail.  First long run go with dinghy and outboard.  First time docking with no current!  All in all it was a successful weekend with no disasters – the only breakage was one of the chocolate Easter rabbits which got crushed during the passage across Broken Bay.  We were on a high for quite a long time after the weekend, even though we were totally knackered after.  Back at the marina, we had to clean and wash everything down.  But even that drudgery that didn't dampen our spirits.
A successful weekend afloat was just what we needed to boost our motivation and get out there again.